Throughout 2019, the Bowman Software Lab has released important enhancements to its XRalizer software, fulfilling what customers have told us are their top priorities. Those 10 most important enhancements include:
"Multi-method" Auto-Focus. Bowman competitors support just one auto-focus method; XRalizer 3.0 offers alternatives; the operator just hits "measure" and the system does the rest, ensuring the sample is optimally focused before measurement.
Element Al (see image, right) locates element peaks within the sample, identifies unknown samples, and flags contaminants.
Material ID sorts unknown samples using our library of known standards. Operators get quantitative analysis with one click. Samples are classified by material grade, eliminating the need for hand-held XRF.
Sample IQ warns if you're measuring a sample with the wrong analysis file.
X-ray calibration routine
Energy cal reminder.
Recert reminder helps you maintain ISO accreditation.
Auto focus HRS allows the software to automatically focus on highly reflective surfaces where laser or image sharpness methods are unworkable. This feature is now available on O-Series instruments and will be available on other Bowman instruments soon!
Sample Holder integrates control of any vacuum, electrostatic or any other electron or pneumatic holder with the Bowman XRF, using existing front panel controls and indicators.
Workflow Improvement options have been added to streamline the operator workflow when measuring parts. Options can be disabled to remove controls from the User Interface, and the operator can be required to perform specific tasks before measuring samples.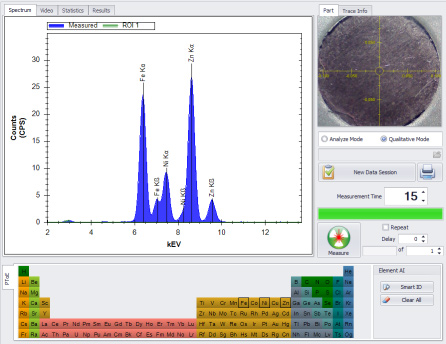 XRalizer helps quality techs work smarter and save time!
As always, software upgrades are free for Bowman XRF customers.