General Metal Finishing describes the broadest sector of industries that Bowman serves
Products from fasteners to faucets to five irons are plated to impart corrosion protection, wear resistance, conductivity, lubricity, and decoration. All types of metal substrates (and some plastics) can be plated, and the thickness and uniformity of the deposit layers is a critical determinant of whether or not the plating meets specifications.
From Electroless Nickel (NiP), thick and thin, to Cadmium (Cd), Tin, (Sn) or Tin Lead (SnPb) single layer coatings, to multilayer deposits such as Chrome over Zinc Nickel (Cr/ZnNi) and even measuring the chromate conversion layer, Bowman XRF systems are specially equipped to help platers measure thickness, composition, and plating bath solutions.
For more than 3 decades, Bowman has provided platers with XRF thickness measurement instruments that are precise, reliable, and engineered to perform in the rugged environment of a plating or manufacturing shop. Our best-in-class x-ray tube and SDD (Silicon Drift) Detectors are the solid core of every system. A modular design makes our systems the most field-serviceable in the industry, virtually eliminating unplanned downtime.
The G Series is our smallest and most affordable system. It's ideal for small parts like fasteners or hardware, and flat parts. It has bottom-up measurement and a manual XY sample stage.
Next in chamber size is the B/P Series, which has top-down measurement, a larger chamber, and optional programmable XY stage. If samples or fixtures are larger, the L Series has industry's largest chamber and a programmable XY stage.
All instruments manufactured for the precise measurement of plating and chromate coating thickness have SDD detectors standard; large-window SDDs are available for fastest test times.
Bowman XRF analyzers are quality tools that provide highly accurate, highly repeatable performance, along with documentation flexibility that's easily tailored to department requirements.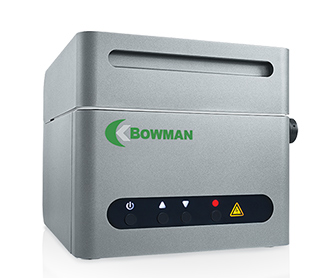 Chamber dimensions 12"x13"x4" (WxDxH). Manual XY stage (1.5"x1.5" movement) and single collimator (8 or 12 mil).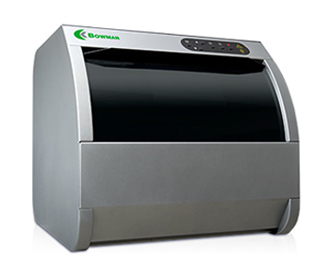 Chamber dimensions 22"x24"x11" (WxDxH); programmable XY stage (travel 10"x10") and multiple collimators (4, 8, 12, 24mil default, custom options available).
Read our short Applications notes below to learn more about how to measure:
%P in Electroless Nickel (Ni-P) plating,
Compositional and thickness analysis of Zn-Ni
Chromate Conversion Coatings
Thin Physical Vapor Deposition (PVD) coatings
TiCN on cutting tools
Nanometer Level Indium Coating
and more!