G Series XRF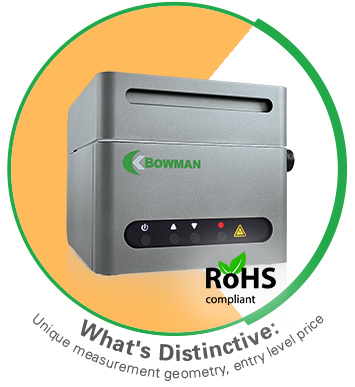 Bowman brand XRF for gold
The G Series' two most distinctive features are precision video imaging, and 'bottom-up' measurement using a motorized Z-axis with laser-based auto-focus. The latter is a feature unique to Bowman. An available manual XY stage with 1.5 X 1.5' travel facilitates easy positioning of small and large parts. The chamber is relatively small when compared to other models like the B Series. The smaller chamber and footprint is well suited for jewelry and other precious metal analysis applications, and components such as connectors and fasteners.
The standard configuration includes a single fixed collimator and a fixed focus camera. An SDD detector is included, along with our long-life micro-focus x-ray tube. As with all Bowman benchtop XRFs, instruments can be upgraded to include multiple collimators or a variable focal camera.
Questions? Want a Demo? Interested in a Trade-in?
The G Series XRF is ideal for labs and production lines, particularly where users have:
Limited benchtop space
Budget limitations
A preference for 'bottom-up' operation with a motorized Z axis
The need to position smaller samples quickly and easily
The need to comply with IPC-4552, 4553, 4554 and 4556
STM B568, DIN 50987 and ISO 3497
The desire to upgrade an old XRF's performance and efficiency – and get a generous trade-in bonus!
The need for RoHS compliance
Product Specifications
Element Range:
Aluminium 13 to Uranium 92
X-ray excitation:
50 W (50kV and 1mA) micro-focused W anode tube
Detector:
Silicon solid state detector with 190eV resolution or better
Number of analysis
layers and elements:
5 layers (4 layers + base) and 10 elements in each layer with composition analysis of up to 25 elements simultaneously
Filters/Collimators:
4 primary filters / single collimator (optional dual)
Focal Depths:
Single fixed focal depth with laser and auto focus
Digital Pulse Processing:
4096 CH digital multi-channel analyser with flexible shaping time. Automatic signal processing including dead time correction and escape peak correction
Computer:
Intel, CORE i5 3470 Processor (3.2GHz), 8GB DDR3 Memory, Microsoft Windows 10 Prof, 64-bit equivalent
Camera optics:
1/4″ (6mm) CMOS-1280×720 VGA resolution
Video Magnification:
30X Micro & 7X Digital Zoom: Standard; 55X Micro: Optional
Power Supply:
150W, 100-240 volts, with frequency range of 47Hz to 63Hz
Weight:
25kg
Standard Motorized/ Programmable XY:
Table size: Not available
Extended Programmable XY:
Table size: Not available
Optional Manual XY Sample Stage
Table size: 279mm (11″) x 254mm (10″) Travel: 38mm (1.5″) x 38mm (1.5″)
Internal Dimensions:
Height: 100mm (4″), Width: 325mm (13″), Depth: 300mm (12″)
External Dimensions:
Height: 325mm (13″), Width: 350mm (14″), Depth: 450mm ( 18″)
Do you have specific questions for us?