New XRF Measurement System Designed for Metal Finishers
Who Benefits?
Finishers who need to precisely measure coating thickness on automotive parts, plumbing components, cutting tools and other large samples
Finishers who want an XRF measurement system that does "triple duty" – performing coating analysis, solution analysis and element analysis with one instrument
Finishers who need to comply with the new IPC specification, 4552-A, for printed circuit board plating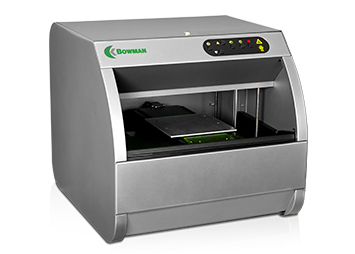 December, 2017: Bowman has introduced its large component "L Series" XRF for parts measuring up to 22″ X 24″ X 13″.
The Bowman L Series desktop instrument was engineered for OEMs and contract shops who need precise control over the thickness of plated deposits, preventing the quality issues that result from under-plating, and the cost consequences of over-plating.
The Bowman L Series XRF quickly and precisely determines the thickness of coatings within a broad range: from aluminum through uranium (13 through 92 on the periodic table.) The instrument measures up to five coating layers simultaneously, any or all of which can be alloys.
Key Features of L Series units include Bowman's proprietary micro spot focus x-ray tube, and temperature-stabilized silicon PIN diode detector. The detector has well-defined element peaks, eliminating the need for secondary filters. Minimal peak position drift assures highest stability over time and extends the interval between recalibrations.
Unique to Bowman XRF instruments is the intimate proximity of the X-ray tube and detector, a feature of system architecture that produces more than three times the photon counts of conventional XRF equipment – and in a shorter measurement time.
The standard L Series configuration includes a 4-position multiple collimator assembly; collimator sizes and focal distances can be tailored to the application. A micro-focus video camera, synchronized with the x-ray optics, pinpoints the target; recessed areas and unusual part geometries are easily accommodated.
Like all Bowman XRF measurement systems, the L Series runs advanced, Xralizer software to precisely quantify coating thickness from the detected photons. Xralizer software combines intuitive visual controls with time-saving shortcuts, extensive data searchability, and "one-click" reporting that is unique in the industry. The software also simplifies the creation of new applications, and custom reporting formats.
The L Series is the 6th unit in Bowman's XRF instrument portfolio – and the most versatile. It has the largest part capacity in the series, and the largest part capacity of any commercial XRF measurement device. In addition to testing large parts, it is ideally suited for fixtured components, and for applications involving multi-point measurement.
Bowman is a leading manufacturer of precision XRF coating measurement systems, with a robust local service network that provides same-day response for every XRF need. Equipment evaluation, selection, commissioning, maintenance and modernization is provided for users of all Bowman instruments, as well as other XRF brands, for customers worldwide. All Bowman systems are manufactured in the USA.

Bowman Hosts International XRF Event
Bowman held its 2017 International Sales Meeting in Chicago October 30 and 31, 2017
30 XRF coating measurement distributors from 15 countries attended the meeting, which provided an opportunity for our industry partners in both the printed circuit and general metal finishing industries to share ideas, discuss new technology developments, review best practices and celebrate the year's many high-profile successes.
The culmination of the fast-paced 2-day meeting was an awards dinner where 2017 sales achievements were recognized. Recipients of Outstanding Achievement "Million Dollar" Sales Awards were Zach Dismukes, Bowman NA Sales Manager; Applied Scientific Instruments Co., Shanghai, China; and Quantum Equipment Co. Pvt. Ltd., Mumbai, India.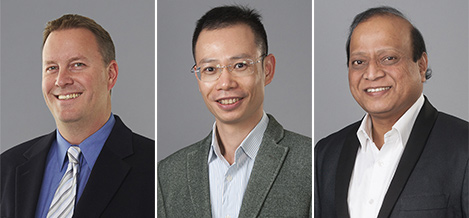 Zach Dismukes, Bowman NA Sales Manager; Arthur He, Applied Scientific Instruments Co., Shanghai, China; and DM Musale, Quantum Equipment Co. Pvt. Ltd., Mumbai, India received "Million Dollar" Sales Awards at Bowman's 2017 International Sales Meeting.
Receiving $250,000 Sales Awards were CMI Korea, Seoul Korea; and Bowman Italia S.r.l., Novi Ligure, Italy.
According to Bowman President Tom Leone, the meeting was "a great success, with valuable participation by distributor partners, and excellent technical sessions."
Bowman also recognized two of its presenters with awards for their contributions. Richard DePoto, Manager of Business Development at Uyemura USA, (Southington, CT) presented two talks. The first was an exploration of the IPC 4552 Rev. A ENIG Specification. The second was titled "White Bronze" Tri Metal: Expanding Applications and New Developments in a Changing Landscape. Frank Ferrandino, President of Calmetrics, Inc., (Ronkonkoma, NY) delivered a talk on standards and certification.
Among the topics most discussed at the meeting was the recent release of IPC-4552A: Performance Specification for Electroless Nickel / Immersion Gold (ENIG) Plating for Printed Boards. Bowman is distinct in that its systems guarantee compliance with this critical industry standard.

Bowman Honored with Export Challenge Award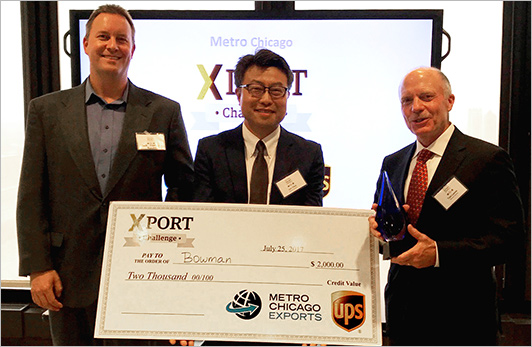 August 7, 2017: Bowman has received the prestigious Export Challenge Award. This honor is given by Metro Chicago Exports, a strategic economic development program that's part of the Global Cities Initiative (a joint project of the Brookings Institution and JPMorgan Chase.) The award is made annually to companies who exhibit strong growth potential and have demonstrated an ability to succeed in international markets. The award ceremony was held July 25.
The Bowman system is a high performance, X-ray Fluorescence Analyzer, ("xrf") widely used by OEMs and job shops in the printed circuit board industry, where plating thickness is a critical metric. XRF is also widely used in the automotive parts, plumbing and cutting tools industries.
Bowman XRF has grown 25% per year, on average for the past 5 years – a key reason for its selection by the Export Challenge judges. 70% of its product is exported, primarily to Asia. The company recently established a broad sales and service network in Germany.
In addition to manufacturing, Bowman provides calibration services, preventive maintenance and training worldwide. In March, 2017, Bowman XRF was honored by the international trade association IPC, (Association Connecting Electronics Industries, Bannockburn, IL) for its innovative technology in electronics assembly.
A new Bowman instrument that uses µ-spot capillary optics for advanced thin film measurement recently received the New Product Introduction Award from Printed Circuit Design and Fab and Circuits Assembly.

Bowman Wins NPI Award with M Series X-ray Optics System
Innovative technology combines a small spot, high flux x-ray beam with a large window Silicon Drift Detector (SDD) to achieve unmatched speed, precision and performance.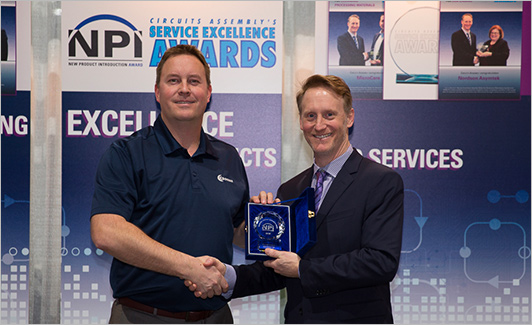 March 6, 2017: Schaumburg, IL – Bowman's M Series µ-spot optics instrument was honored with a New Product Introduction award during the IPC APEX Expo at the San Diego Convention Center. The award, presented by Circuits Assembly and Printed Circuit Design and Fab, was in recognition of the advanced thin film measurement the M Series achieves using µ-spot poly-capillary optics.
An independent panel of practicing industry engineers selected the recipients for this 10th annual award for electronics assembly equipment, materials, software, and PCB fabrication."We are very excited that the M Series has received this recognition," said Jun Choi, Bowman Chief Technology Officer. "The innovative technology combines a small spot, high flux x-ray beam with a large window Silicon Drift Detector (SDD) to significantly improve the instrument's speed, precision and performance."