XRF coating thickness measurement systems

for large or fixtured parts
Parts of all shapes and sizes require electroplating. Larger parts are more challenging to measure with benchtop instruments as they must fit into the sample chamber and be positioned under the x-ray beam for analysis. Smaller XRF instruments are limited by chassis design in the sample sizes they can accommodate.
Larger parts often have complex geometries, where critical test areas lie in a curved or recessed area. This makes sample positioning even more challenging, as the alignment and measuring distance must be adjusted for optimal accuracy.
Bowman has engineered and manufactured precision XRF instruments for more than 30 years and has developed a model particularly well suited for companies plating parts of varying shapes and sizes. The L Series system has the largest enclosed chamber available and accommodates samples up to 22" in any dimension. It includes a programmable XY stage with a stroke of 10"x10" to cover a large sample area, or a large fixture containing multiple smaller samples.
A variable focus camera allows the working distance to be adjusted from 0.25"-2.5+" to accommodate measurement in recessed or angled areas. The multi-collimator assembly provides versatility in measuring samples and features of all sizes.
As with all Bowman systems, the L Series is designed for plating environments. Our best-in-class x-ray tube, paired with our solid-state SDD detectors form the solid core of every system. Modular design makes our systems the most field-serviceable in the industry, virtually eliminating downtime. Our global service team provides fast, expert instrument support for customers on every continent, making Bowman the easy choice for your next XRF system.
Call us, or send a web inquiry today to learn more about our L Series and other XRF systems – and to set up a web demo to see it in action!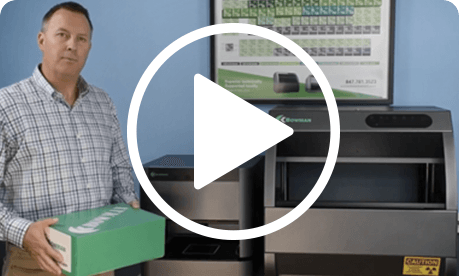 Often, the selection of an XRF comes down to our P Series – or L Series. The performance and features are the same; chamber size is where they differ. This short video can help you decide which will work best for your test requirements.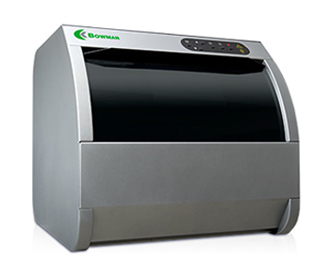 Sample chamber dimensions 22"x24"x11" (WxDxH). Fully enclosed chamber. Includes programmable XY stage (travel 10"x10") and multiple collimators (4, 8, 12, 24mil default, customized options available). SDD detector standard; large-window SDD optional for fastest test times.