The Maximum Concentration Value (MCV) for heavy metals and flame retardants covered by RoHS 3, the most recent iteration of RoHS regulations, is as follows:
•

Lead (0.1%)

•

Mercury (0.1%)

•

Cadmium (0.01%)

•

Hexavalent chromium (0.1%)

•

Polybrominated biphenyls (PBB) (0.1%)

•

Polybrominated diphenyl ethers (PBDE) (0.1%)

•

Bis(2-Ethylhexyl) phthalate (DEHP) (0.1%)

•

Benzyl butyl phthalate (BBP) (0.1%)

•

Dibutyl phthalate (DBP) (0.1%)

•

Diisobutyl phthalate (DIBP) (0.1%)
IEC 62321 specifies test methods for quantifying levels of these substances. XRF is recommended in part 3-1 of IEC 62321 as a screening method for lead, mercury, cadmium, total chromium, and total bromine.
Bowman XRF systems are well-suited to the important task of quickly and precisely identifying hazardous substances covered in the RoHS 3 Directive. Their small X-ray spot capability, factory-calibrated RoHS package and powerful software provide companies throughout the electronics supply chain with a reliable and cost-effective quality tool.
Key Considerations
Conventional XRF instruments are limited to the measurement of spot sizes ˜10mm or larger, making it difficult to measure electrical parts which are smaller, and/or have an irregular shape. Destroying the sample, a time-consuming task in itself, is often necessary.
New generation Bowman XRFs were engineered to meet the evolving needs of the electrotechnical industry. The maximum measurement spot size of a Bowman XRF is ˜1.5mm. (The minimum spot size, used for high-end electrotechnical and semiconductor applications, is ˜ 0.01mm.)
All Bowman systems have an integrated video camera with automated laser focus and image focus to precisely locate the intended measurement location. A photograph of each measurement spot is archived automatically.
L Series XRFs, one of two Bowman XRF instruments with the available RoHS package, have a flexible focal distance and programmable table. Multiple samples can be measured unattended using predefined XYZ multi-point programs.
Bowman XRF Systems are multi-use quality tools that perform 4 critical functions:

•

Plating Thickness

•

Plating Bath Analysis

•

Alloy Composition

•

RoHS Analysis
For plating thickness measurement, Bowman XRFs measure up to 4 layers, plus the substrate. For samples with a layered structure, composition and thickness results are generated simultaneously in minutes.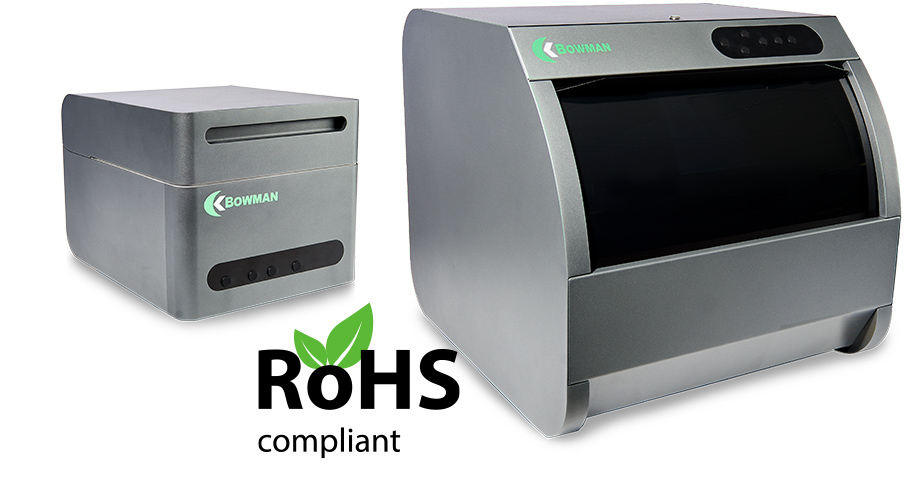 X-ray tube:
50W Rh target
Detector:
Silicon Drift Detector
Quick-read Application Bulletin #12 overviews key technical aspects of RoHS Directive 3, including plastics, aluminum, copper and tin standards, thickness compensation, achievable LODs, and more.