May, 2018 – Bowman has appointed SciMed, a distributor of scientific instruments, as exclusive distributor for Bowman XRF plating thickness measurement systems in the UK.
SciMed will represent Bowman XRF systems throughout the UK, and provide service and technical support. Bowman XRF equipment is tailored to the user's specific needs, and includes a broad range, from entry-level instruments to elite, "best in class" systems for the most demanding microelectronics applications.
SciMed was established in 1979 in Stockport, Cheshire, and has become one of the UK's most prominent distributors of laboratory and process equipment. It works with every sector of UK industry, but primarily advises scientists and technicians involved in microelectronics, metal plating, electrochemistry and elemental analysis.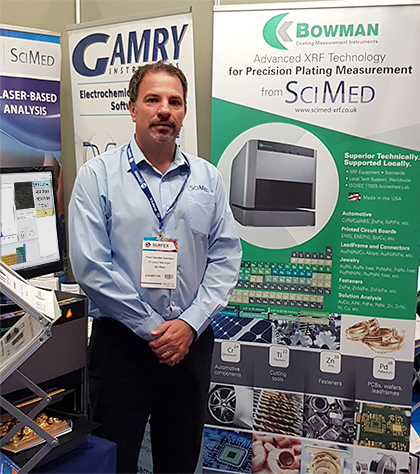 SciMed owner Paul Vanden Branden introduced Bowman XRF technology at Surfex, the premier conference and trade event for the UK finishing industry, in Conventry, May 22-23.