Who Benefits?
Finishers who need to precisely measure coating thickness on automotive parts, plumbing components, cutting tools and other large samples
Finishers who want an XRF measurement system that does "triple duty" – performing coating analysis, solution analysis and element analysis with one instrument
Finishers who need to comply with the new IPC specification, 4552-A, for printed circuit board plating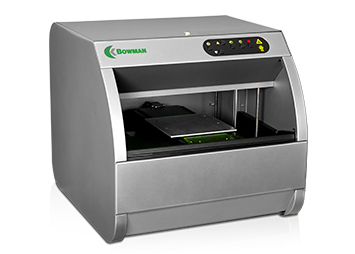 December, 2017 – Bowman has introduced its large component "L Series" XRF for parts measuring up to 22″ X 24″ X 13″.
The Bowman L Series desktop instrument was engineered for OEMs and contract shops who need precise control over the thickness of plated deposits, preventing the quality issues that result from under-plating, and the cost consequences of over-plating.
The Bowman L Series XRF quickly and precisely determines the thickness of coatings within a broad range: from aluminum through uranium (13 through 92 on the periodic table.) The instrument measures up to five coating layers simultaneously, any or all of which can be alloys.
Key Features of L Series units include Bowman's proprietary micro spot focus x-ray tube, and temperature-stabilized silicon PIN diode detector. The detector has well-defined element peaks, eliminating the need for secondary filters. Minimal peak position drift assures highest stability over time and extends the interval between recalibrations.
Unique to Bowman XRF instruments is the intimate proximity of the X-ray tube and detector, a feature of system architecture that produces more than three times the photon counts of conventional XRF equipment – and in a shorter measurement time.
More on L Series XRF coating measurement