---
Bowman partner company, Quantum Equipment Co. Pvt. Ltd., exhibited at IIJS, the India International Jewelry Show on August 9-12 in Bombay. Mr. DM Musale and Ms. Vaishali Dake Musale and their team demo'd the B and G Series XRFs.

Bowman Sponsors Chicago Finishers
---
Bowman sponsored the annual CSFF (Chicago Surface Finishing Foundation) Golf Scramble at Pheasant Run Golf Club in St. Charles on August 23. The day before, participants enjoyed a day of exceptional speakers: Steve Hughes, Nancy Belda, Sue Ciullo, Neil Idhe, as well as Products Finishing Editor, Tim Pennington, who spoke on the best operational and management trends among top finishing shops in North America.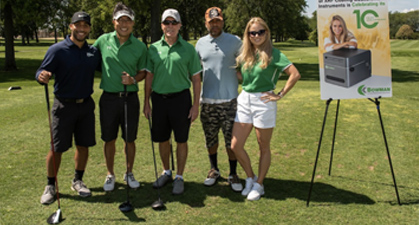 ---
The National Institute of Applied Sciences of Lyon (INSA Lyon) purchased Bowman's P Series for training students on plating quality control. Students will manufacture prototypes and do plating thickness measurement.

---
22 Bowman employees competed in the annual CCBA (Chicagoland Circuit Board Association) Golf Outing at the Klein Creek Golf Club in Winfield, Illinois. Bowman sponsored the event, which was held this year on September 13.