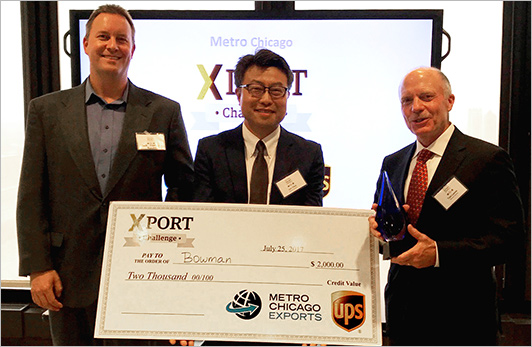 August, 2017 – Bowman has received the prestigious Export Challenge Award. This honor is given by Metro Chicago Exports, a strategic economic development program that's part of the Global Cities Initiative (a joint project of the Brookings Institution and JPMorgan Chase.) The award is made annually to companies who exhibit strong growth potential and have demonstrated an ability to succeed in international markets. The award ceremony was held July 25.
The Bowman system is a high performance, X-ray Fluorescence Analyzer, ("xrf") widely used by OEMs and job shops in the printed circuit board industry, where plating thickness is a critical metric. XRF is also widely used in the automotive parts, plumbing and cutting tools industries.
Bowman XRF has grown 25% per year, on average for the past 5 years – a key reason for its selection by the Export Challenge judges. 70% of its product is exported, primarily to Asia. The company recently established a broad sales and service network in Germany.
In addition to manufacturing, Bowman provides calibration services, preventive maintenance and training worldwide. In March, 2017, Bowman XRF was honored by the international trade association IPC, (Association Connecting Electronics Industries, Bannockburn, IL) for its innovative technology in electronics assembly.
A new Bowman instrument that uses µ-spot capillary optics for advanced thin film measurement recently received the New Product Introduction Award from Printed Circuit Design and Fab and Circuits Assembly.